8 Best Restaurants in Los Cabos
You love surf and turf, and a great taco. You're all in for luxury with a bit of comfort, too. Basically, you've fallen under
the spell of Los Cabos
. We can't blame you, especially once you pay a visit to the best restaurants in Los Cabos. If you weren't motivated to make Los Cabos your local neighborhood, you will be by the time dinner is over.
1. Flora's Field Kitchen at Flora Farms
If you need somewhere to start, go for a Cabo institution:
Flora's Field Kitchen
at Flora Farms. Flora's opened in 1996 on 10 acres in the foothills of the Sierra de la Laguna Mountains, and they've been paving the way for farm-to-table restaurants ever since. You might come for the view (seriously, it's so magical that Maroon 5's Adam Levine got married here) but you'll stay for the food. The brunch alone is worth a long, lazy morning with lemon pancakes, huevos rancheros, and one handsome Bloody Mary. For dinner, line up at the communal tables for beet carpaccio, gnocchi with carrot and beet dumplings, and pork belly confit with mango marmalade. And if you want to take some Flora home with you, there's a market stocked full of local honey, house-made granola, and crafts from local artists.
2. Huerta Los Tamarindos
Huerta Los Tamarindos
is founded on the same general principle as Flora's (i.e. there are few things quite as satisfying as looking out onto the 17 acres that grew your dinner) but Los Tamarindos is second to none. It's a hidden gem serving Mediterranean-style food, specializing in pizza and soup. If you want a guaranteed winner, go for their renowned seafood pasta. Plus, if you want to get in the feel of cooking in Los Cabos before you've settled in a house here, Los Tamarindos offers
cooking classes
covering Mexican and Mediterranean cuisine your family will line up for.
3. Sea Grill at Las Ventanas
If you want to feel like you're in the lap of luxury, head on over to
Sea Grill at Las Ventanas
, located at the sand's edge with a stunning view of the Sea of Cortez. Plus, if you're not a guest at the resort, you can stroll the grounds before or after your meal (trust us, you'll want to). When you sit down to eat, go for one of their ceviches with a fabulous hibiscus margarita. They keep the meat and seafood options simple here, cooked in a clay mosaic oven or over a wood grill and dressed in olive oil and herbs from the resort garden.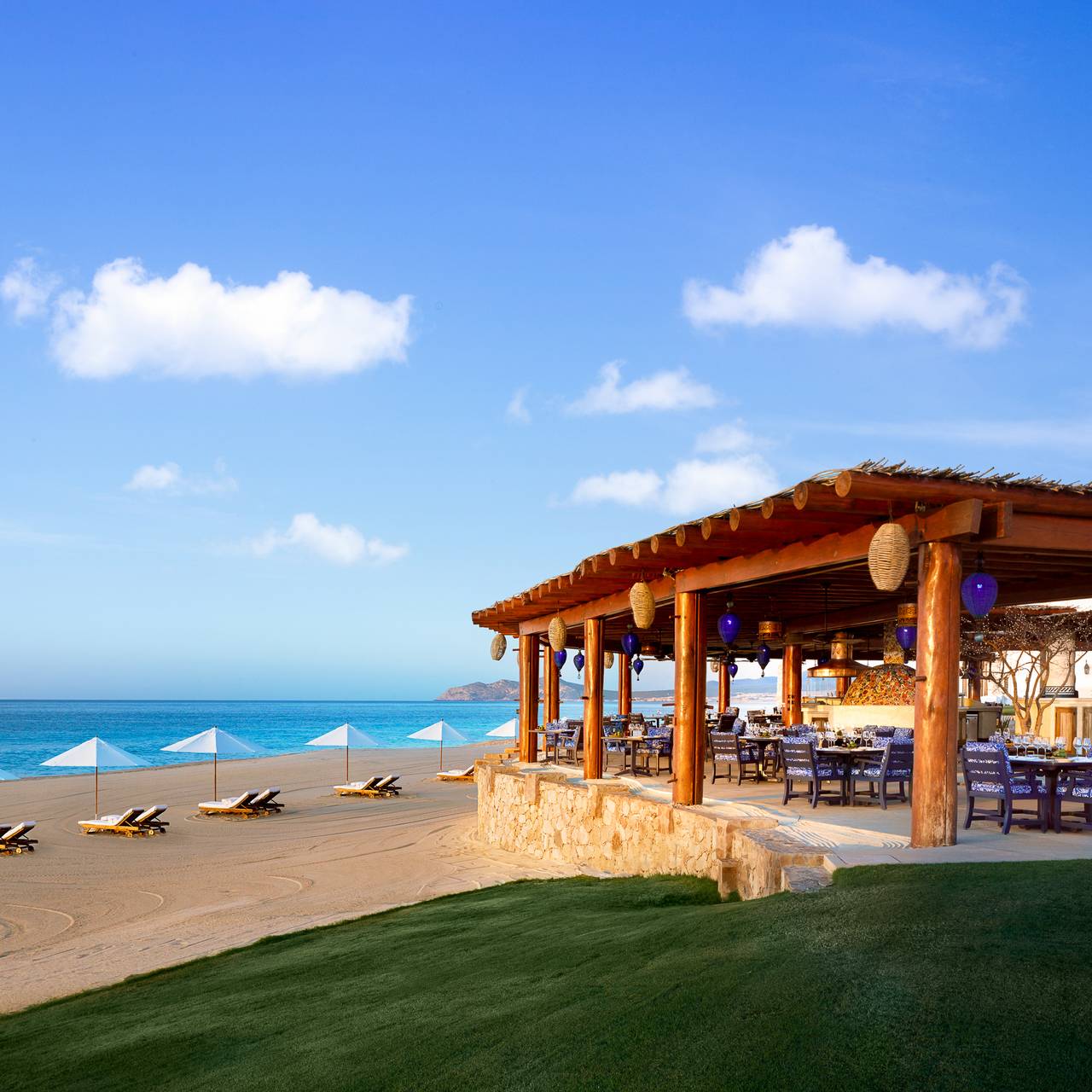 4. The Office on the Beach
They're not kidding about the beach part, most of the tables are in the sand. Once upon a time (sometime in the '70s) the first palapa in Los Cabos was built, serving fried fish, burritos, and the obligatory margaritas to tourists. A local gringo viejo rented surf equipment on the beach and entertained his clients and friends at this palapa, referred to as "the office". The name stuck, right on a blue and yellow sign, and the rest, as they say, is history. These days, the Office sticks to what they do best–tostadas, seafood cocktails, and other standard Mexican offerings–but what you really want are the big local crabs steamed with garlic and butter, best enjoyed while taking in the live entertainment with sand between your toes. You'll just wish the
Office on the Beach
was your office.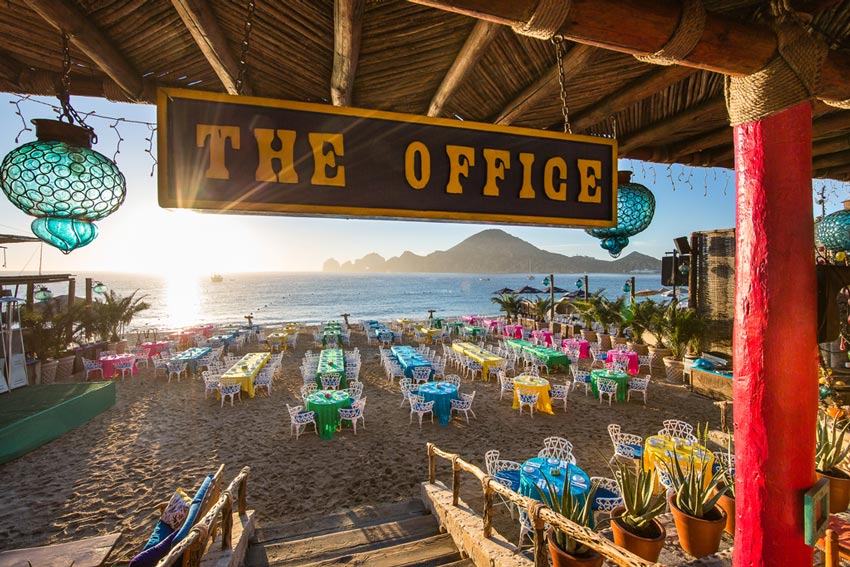 5. La Lupita Taco & Mezcal
You can't make everyone happy, but you can order tacos, which is basically the same thing (assuming you order them from
La Lupita Taco & Mezcal
). La Lupita keeps it short, sweet, and to the point, focusing primarily on tacos. And they've got tacos for everyone, from the classic Santo Pastor (marinated pork, cilantro, onion, pineapple, yellow corn) to the more adventurous El Takeshi (ribeye, sesame, hoisin, ginger, chives, crispy shallots). If you're feeling brave, order the Taste of La Lupita and try a grasshopper. You might want a shot of Mezcal afterward, though (La Lupita will happily oblige).
6. Las Guacamayas
You know something is good when tourists and locals alike flock there.
Las Guacamayas
is that good. Even Lady Gaga has been spotted having dinner under the parrot murals. It's cheap, it's authentic, and it's all-around fantastic Mexican food served in generous portions. The house specialty is the aguachiles (big stone bowls with layers of grilled meat, seafood, vegetables, and chile peppers) but you'll also find great tacos, giant margaritas, and gringo-friendly fajitas. It's a bit of a trek, but any taxi driver will know where to go (and will gladly tell you it's worth it).
7. Taqueria Rossy
Taqueria Rossy
might not look like much at first since it's basically a roadside taco shack where chairs and tablecloths are both made of plastic. The menu is equally unpretentious, focusing on tostadas and lightly battered shrimp and scallops served in flour or corn tortillas. Take a look around, though, and you'll notice that Taqueria Rossy serves a collection of local families happily munching on everything. Take a bite of your food and you'll understand why–this place serves some of the best tacos in the area, hands down.
8. Mi Casa
Finally, there's
Mi Casa
, which has been taking the, "mi casa es su casa," approach to eating out for the last 20 years or so. Not much has changed over the past 20 years because Mi Casa is that good. There are two locations, but if you can, go for the original location in Cabo San Lucas. Mi Casa's menu presents itself as a culinary tour through the regions of Mexico, and it delivers. They cover a bit of everything from shrimp tacos al pastor to carne asada. Taste what you like and go on an adventure.
Exploring the Best Restaurants in Los Cabos
We weren't kidding when we said you wouldn't want to leave after tasting the best restaurants in Los Cabos. If you're ready to take us at our word, we're ready to show you how great life can be in Los Cabos as a full-time resident.
Click here
to check out our Cabo communities, or
start searching
for your perfect home.