Luxury awaits you at Lands End
Los Cabos Luxury Real Estate Guide
Our Luxury Real Estate Guide is a top-down look at luxury real estate in Los Cabos. Use this guide to find luxury homes, luxury neighborhoods, stunning ocean views, 5-star amenities, exclusivity, and high-end services.
In this guide, we talk about:
Luxury is an often overused word to describe real estate. Everything from a nice condo kitchen with mid-higher end appliances or a heated swimming pool gets labeled as "Luxury".  Luxury is also used to describe ultra-luxury custom homes of the one-percenters of the world. Luxury real estate is often defined differently in different markets and often is related to property value and residential incomes. In many markets, a property over a million dollars was thought of as luxury, but, as a result of rising property values, some 146 cities in the United States have a median home price of over 1m USD. Will homes around the median be luxury? Probably not. Here's what you will find in Los Cabos.
Luxury Real Estate in Los Cabos
While there is no specific definition or checklist for defining "Luxury," there are many features that are common among upscale properties around the world that buyers coming to Los Cabos are looking for:
Stunning ocean views

Spacious properties & homes

Distinct designs & architectural notoriety

High-end finishes & appliances

Prestige, exclusivity, privacy & security

Hotel & resort amenities

Branded luxury residences

Price points commensurate with community and property features & benefits
Los Cabos offers all these features in many unique combinations that will appeal to a range of home buyers. All luxury developments in Los Cabos are gated and have security resulting in peace of mind for their residents. Where luxury communities in Los Cabos will differ are developer home offerings (including custom home builds) and the array of services and benefits to homeowners in the community.
Branded Luxury Residences
Did you ever vacation at a 5-star resort and wished you could live that lifestyle whenever you wanted? For discerning homebuyers looking for a private and upscale home that offers the same perks and services of hotel living, branded residences can be appealing.
Despite hotel-branded residences having been around for a while, they have grown more popular than ever before for those buyers seeking a property investment that offers a name that buyers know, love, and trust, first-class facilities, prestige, and convenience.
Buyers of branded residences often own homes in other locations around the world. Like most homeowners, they prefer to have their personal effects in their own homes, and they don't want to worry about maintenance and security when not in residence. Additionally, 24/7 concierge services are desirable for enjoying a hotel lifestyle with lock and go convenience in their own homes.
From breathtaking locations offering security and privacy, first-class perks, and personal service, branded residences offer a lifestyle aligned with each brand's ideals.
There are many benefits to buyers selecting a branded residence as a vacation home.
Prime location

Superior Services and amenities

Thoughtful interior design and architecture, state of the art technology

Trust and credibility

Prestige

Strong resale value

Higher rental income on average

Professional operational management and maintenance

Convenient and hassle-free ownership

Premium/luxury lifestyle

Concierge services

Discounts on services and access to the operator's properties in other locations

Like-minded neighbors
In Los Cabos, many branded residences are offered to discerning homebuyers looking for a full ownership property. Other luxury brands in Los Cabos like the One & Only and the Waldorf Astoria that strictly resort hotels and do not offer full ownership residences. This guide focuses on full ownership residences.
Auberge Resorts Collection
Auberge Resorts Collection is a portfolio of hotels, resorts, residences, and private clubs with two locations in Los Cabos; Chileno Bay and Esperanza. Auberge Resorts Collection has built its reputation on creating one-of-a-kind properties and experiences that capture the soul of each destination. All properties share a crafted approach to luxury and bring the soul of the locale to life through captivating design, exceptional cuisine, world-class amenities, and gracious yet unobtrusive service. Maintenance-free ownership of a luxurious villa in a prime Los Cabos location and all the benefits of being a part of a premier resort community is what the brand is renowned for. From enjoying services in your new home, such as private chefs to child-minding, you have full access to Auberge resort facilities, including restaurants, spas, lounges and bars, beach clubs, and golf courses.
Four Seasons Private Residences
The Four Seasons brand is available in Los Cabos at two locations; Cabo del Sol located along the Cabo Corridor, and Costa Palmas located in the East Cape. Each resort offers a luxurious and adventurous lifestyle supported by the world-class services and amenities of the Four Seasons. The Four Seasons Hotels and Resorts, which opened its first hotel in 1961, is about continual innovation, remarkable expansion, and a single-minded dedication to the highest standards. The Canadian-based company has, for 60 years, transformed the hospitality industry by combining personalized, genuine care with an unwavering commitment to excellence. In the process, Four Seasons has redefined luxury for the modern traveler. The strength of the Four Seasons brand has become a promise of a quality of life.
Thompson Hotels
Thompson Hotels, part of the Hyatt Hotels group, is determined to redefine hospitality with one-of-a-kind properties and reshape them into timeless destinations, creating distinct experiences. Owners at The Cape Residences enjoy all the hotel's luxury amenities, including its two pools, rooftop lounge, garden, an intimate spa and fitness center with two private outdoor cabanas for treatments with an ocean view, and a diverse array of chef-driven food and beverages. Manta is the hotel's signature restaurant from award-winning chef Enrique Olvera, whose restaurants have topped San Pellegrino's "World's 50 Best Restaurants" list and received rave reviews from critics spanning the globe.
Ritz Carlton
Ritz-Carlton Reserve was established in 2013 as the exclusive brand extension of The Ritz-Carlton, a Marriott International Company. It was designed as a one-of-a-kind boutique resort that elevates the exotic getaway experience to a more upscale level. There are currently only three resorts in the world that currently deserve the Reserve name, with the resort community in Los Cabos being the newest recipient of such distinguished recognition. The Ritz-Carlton Reserve hotel and Ritz-Carlton Reserve Residences are hideaways that blend the culture, history, and heritage. In every location, Reserve Residence owners' discoveries are complemented by legendary service they have come to expect from The Ritz-Carlton. Reserve enhances that experience with ideas and perspectives, giving its discerning guests and residence owners genuinely memorable experiences.
St. Regis
Combining classic sophistication with a modern sensibility, St. Regis Hotels & Resorts, part of Marriott International, Inc., is committed to delivering exceptional experiences at more than 45 luxury hotels and resorts in the best addresses around the world. The St. Regis is committed to an uncompromising level of luxury and anticipatory service for all of its guests, delivered flawlessly by signature St. Regis Butler Service. The St Regis Los Cabos Residences offers majestic ocean views and a tranquil environment for its residents. Highlights of this world-class enclave include access to the Jack Nicklaus-designed Quivira Golf Club and to the restaurants and resort facilities of Cabo's Pueblo Bonito resorts.
Rosewood
Rosewood Hotel Group, a privately owned company, is one of the world's leading global lifestyle and hospitality management groups, encompassing five brands, including the ultra-luxury Rosewood Hotels & Resorts. Established in 1979, Rosewood is a distinctive collection of highly individual, luxurious, residential-style hotels inspired by each locale's culture, history, and geography. Led by a team of seasoned industry veterans, Rosewood's acclaimed attention to detail, proactive approach to environmental sustainability, and dedication to Relationship Hospitality have earned numerous awards and accolades. Located on the dramatic desert coastline of Los Cabos, Las Ventanas al Paraíso, a Rosewood Resort redefines pampering and pleasure with incomparable service and attention to detail. Noted for fantastic architecture and artistry, this remarkable resort is distinguished by the constant attention to detail. The design of Las Ventanas creates a uniquely beautiful setting for Los Cabos vacations, and the resort's approach to landscaping is key to its look and feel. Designed to be in harmony and oneness with the local ambiance, Las Ventanas nestles into the natural slope and contours of the land. The external color scheme reflects the white of the sands and ocean surf.
Park Hyatt
The Park Hyatt brand is available in Los Cabos at the Park Hyatt Los Cabos located in  Cabo del Sol along the Cabo Corridor. The resort provides an unparalleled experience of elegant, contemporary luxury. Revel in the harmony of thoughtfully considered details: stunning architecture crafted with authentic materials, meaningful interiors by world-renowned designers, and expertly curated art collections. Park Hyatt hotel designers furnish the finest in elegant taste while complementing the unique characteristics and culture of the destination.
Founded in 1957, the Hyatt brand has continued to grow with more than 1,150 hotels and all-inclusive properties in 70 countries across six continents. Customer care is at the heart of their business, and it's this exceptional guest experience that makes Hyatt one of the world's best hospitality brands.
Montage
Montage Hotels & Resorts is an ultra-luxury hospitality management company featuring an artistic collection of distinctive hotels, resorts, and residences. Montage Residences Los Cabos offers comfortable elegance, a unique sense of place and spirit, impeccable hospitality, and culinary, spa, and lifestyle experiences. The resort's design is guided by the principle of architecture which remains authentic to its surroundings, while the unique setting inspires the décor. Devoted to delivering an elevated guest experience and a commitment to refined living, guests can expect impeccable hospitality, exceptional epicurean experiences, world-class spas, and an elegant yet welcoming ambiance. Knowledge and passion for outstanding personalized service are the foundation upon which this property management company is built, and these desires are infused in each destination.
Viceroy
Viceroy Hotels Limited, operated by Marriott International, is a full-service lifestyle luxury hotel brand with a portfolio of the finest hotels and resorts located throughout the world. With the provocative design, intuitive service, and imaginative art encounters, The Viceroy Los Cabos in San Jose del Cabo reflects the local culture and a uniquely authentic experience. Viceroy's signature service philosophy lies behind the amenities and beyond the design details. At the ready, before guests call, invisible when privacy is prized, it's an intuitive approach with very tangible advantages. Service starts with guest needs anticipated, then uniquely accommodated. Warmth is a given, discretion an essential. Options for personalizing and streamlining your stay abound, with preferences assured on return visits.
Zoetry
Casa del Mar, a Zoetry brand resort and part of the AMR™ Collection of Hotels and Resorts, believes every moment is worth celebrating. Having designed the perfect places for guests, these beautiful destinations become places where you feel connected to those who matter most. Striving to create an experience that exceeds all expectations, Casa Del Mar is the perfect destination for a dream vacation, a flawlessly executed meeting, or the ultimate destination wedding. Discover the fantastic amenities included with our beautiful 5-and 4-star beach destinations; the AMR™ Collection exudes its unique personality while offering a luxurious experience.
Check out all the Branded Luxury Residences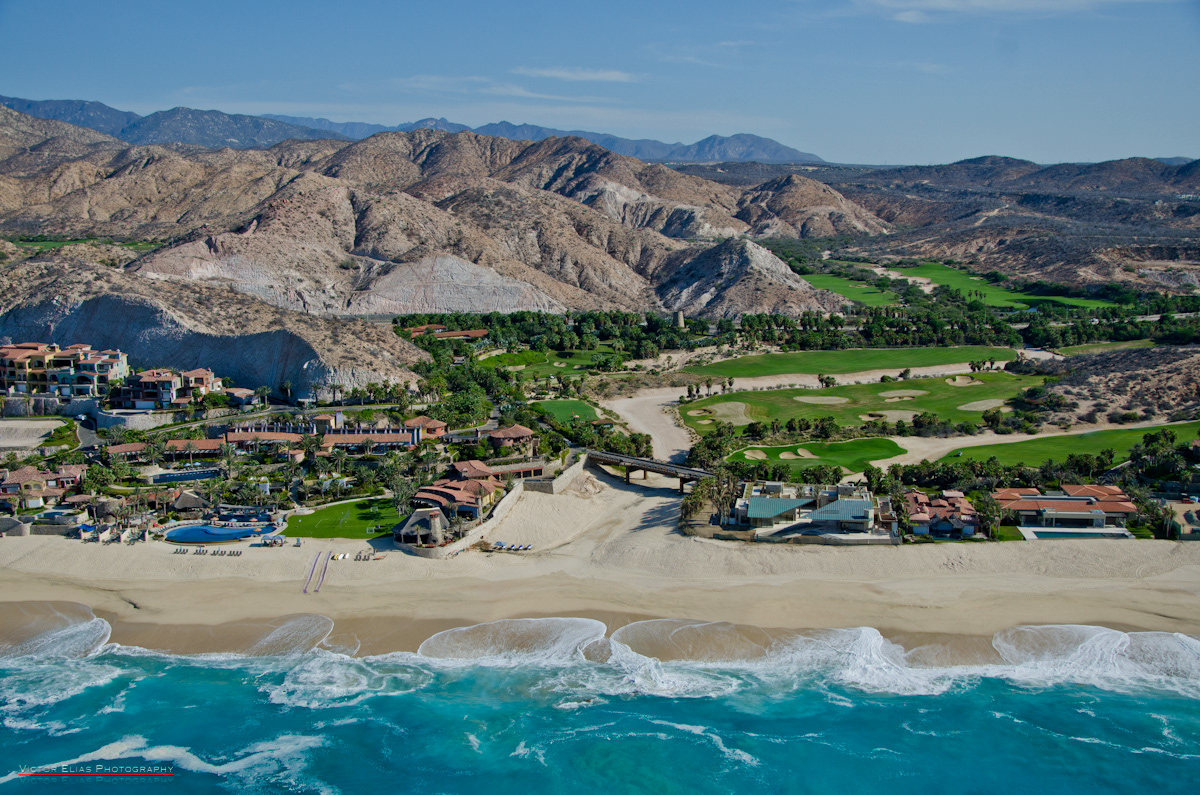 Club Lifestyle Communities
Imagine a lifestyle where you live at the Country Club with amenities at your fingertips. Everything is taken care of, so you can focus on golf, wellness, fitness, socializing, and fun with the family. Add a Beach Club and other unique amenities, and you have the Los Cabos world of Club Lifestyle Communities. The popularity of the Club Lifestyle has taken off in Los Cabos, with more and more luxury buyers choosing a highly amenitiezed lifestyle with their every need taken care of.
Club lifestyle communities offer countless experiences with golf, beach clubs, spas, restaurants, farm-to-table gardens, dog parks, cycling paths, mountain biking, paddle boarding, etc.
Discovery Land Company leads the way in the club lifestyle world and Los Cabos. Discovery has 26 total destinations worldwide, including their two destinations in Los Cabos at El Dorado and Chileno Bay. Discovery's founder Mike Meldman describes their developments as "Frat houses for families" optimized for fun and relaxation.  
Another leader in the Club Lifestyle Communities is Del Mar with their Villas del Mar and Espiritu del Mar developments at Palmilla and exclusive access to Club 96.   Querencia and others have been growing in the same space with a variety of club lifestyle offerings.  
Within each of these Club Lifestyle Communities, the developer and club operator offers various home options. From developer-built condos and homes to custom homesites where you can choose your architect and builder. Options will vary by developer and club community.
El Dorado Golf and Beach Club
El Dorado Golf and Beach Club is Discovery's first luxury golf and beach club community in Mexico. Located along the San Jose Corridor, the community offers 520 stunning beachfront, ocean-view, and desert-scape acres with 74 custom homesites, 117 Villas, and 37 Casitas. 
Chileno Bay Golf and Beach Club
Chileno Bay Golf and Beach Club is Discovery's second luxury golf and beach club community. Located along the Cabo Corridor and offers its residents a one-of-a-kind community. Your perfect home awaits you, from beachfront homesites and custom estates to turnkey villas and haciendas.
Villas Del Mar
Villas Del Mar is a residential resort community nestled within a 75-acre enclave along the Palmilla Peninsula; neighboring Espiritu community, exclusive Club 96, and The One & Only Palmilla Hotel. With breathtaking views of the Sea of Cortez, the residences of Villas del Mar range from estate villas and haciendas to oceanside villas.
Espiritu del Mar
Espiritu del Mar is a residential resort community nestled within a 75-acre enclave along the Palmilla Peninsula; neighboring Villas Del Mar community, exclusive Club 96, and The One & Only Palmilla Hotel. The residences of Espiritu range from luxurious modern homes to sprawling hillside estates that have breathtaking views of the Sea of Cortez.  
Querencia
Querencia is an 1800-acre master-planned golf community, located on the San Jose Corridor. Offering a variety of ownership options for the most discerning of residents, from designing and building your custom estate to choosing from several home options, including club villas, neighborhood homes, luxury boutique condominiums, or oceanfront condominium residences.
Diamante
Diamante offers its residents luxurious amenities, including two golf courses designed by Davis Love II and Tiger Woods, a Tiger Woods designed par three short course, a 10-acre Crystal Lagoon pool, a spa, fitness center, bars, and restaurants.
Hacienda Beach Club
Hacienda Beach Club and Residences is a residential resort community located beachfront on Medano Beach in Cabo San Lucas, Mexico. The resort features 5-star amenities and facilities and features fantastic views of the Sea of Cortez and The Pacific Ocean, natural landmarks such as Land's End, and direct access to the swimmable Medano Beach.
Maravilla
Ohana Real Estate's master-planned community of Maravilla is one of the newer entrants to Los Cabo's Club Lifestyle world. Adjacent to the Montage Los Cabos, Maravilla is the epitome of family-friendly and covers 260 oceanfront acres, offering a contemporary coastal design. Maravilla is surrounded by two of Baja's best swimmable beaches, Playa Santa Maria and Playa Las Viudas. Residents enjoy exclusive access to the Twin Dolphin Club, which includes a Fred Couples Signature Golf Course.
The Cove Club
The Cove Club is an exclusive golf and beach club community situated along the Cabo Corridor at Cabo Del Sol.  One of the newest entrants to Cabo's Club Lifestyle world. The Cove Club aims to set the new standard for a private, luxury, and lifestyle experience. Owners at the Cove Club enjoy exclusive access to the Cabo del Sol Cove Club Course.
The club lifestyle is offered to a broader clientele at Quivira and Rancho San Lucas. Its resort hotels and timeshare operations anchor each destination, and they have been adding full share ownership appealing to a range of price points. 
Quivira
Quivira is located along Cabo's Pacific Coast and is recognized as one of the finest private communities in Los Cabos. This residential community is situated on 1,850 acres, with a top-class golf course overlooking three miles of pristine Pacific Ocean beaches. Quivira offers award-winning spas and numerous dining options.
Old Lighthouse Club
The Old Lighthouse Golf & Ocean Club is the latest club lifestyle neighborhood to break ground. Located at Quivira with full access to amenities at Quivira and new amenities promised that are specific to the community. Homesites are being offered now, starting at USD 2.75m.
Rancho San Lucas
Rancho San Lucas is a golf community located along the Pacific Ocean coastline west of Cabo San Lucas, Mexico. Rancho San Lucas offers another luxury choice for golf and beach club buyers in Los Cabos.
Many communities exist in Los Cabos where homesites remain available for buyers to live their dream of that fabulous custom home. Buyers can create precisely what they want with their favorite renowned architect and home decorator.
These communities also have incredible resale homes available for buyers who would rather have them now in their preferred neighborhood. Homes in these communities feature large lots, spacious houses, ocean views, infinity edge pools, outdoor kitchens, and many other custom luxury features.
These communities appeal to buyers interested in a luxury address, specific community attributes like location and views with privacy and security, and a lesser degree of community amenities.  
Cabo del Sol
Cabo del Sol is located on the Cabo Corridor; Cabo del Sol is a luxury master-planned golf community offering oceanfront, oceanview, desert, and fairway estate homes. Cabo del Sol is home to many resorts, including the new Four Seasons and the Cove Club.
Cabo Real
Cabo Real is located halfway between Cabo San Lucas and San Jose del Cabo; Cabo Real features luxury ocean view properties on a Robert Trent Jones II Golf Course. Cabo Real is home to The Hilton, Dreams, Las Ventanas Al Paraiso and Casa del Mar.
Club Campestre
Club Campestre is located in San Jose and is a 550-acre master-planned community over the rolling foothills of the Sierra de la Laguna Mountains. Designed around an 18-hole Nicklaus Design oceanview golf course, the community has diverse neighborhoods. Each has its distinctive character allowing discerning buyers to choose the best location for their needs. Central to life in Club Campestre is their Beach Club.
Palmilla
Palmilla, known as the Beverly Hills of Cabo, is an exclusive luxury residential and resort community located on the San Jose Corridor just four miles south of San Jose del Cabo. Overlooking the most beautiful bay in the area, Palmilla provides its residents with elegance, privacy, and a level of amenities and luxury facilities you would expect from a premier resort community.
Pedregal
Pedregal, known as the Hollywood Hills of Cabo, is an exclusive residential and resort community on the southern edge of Cabo San Lucas, Mexico. Pedregal is a coastal community with fantastic ocean views, mountain landscapes, and direct beach access.
Puerto Los Cabos
Puerto Los Cabos is located east of the San Jose del Cabo; Puerto Los Cabos is a master-planned, gated residential community with Secrets and J.W. Marriot hotels, 27 distinctive golf holes on golf courses designed by Greg Norman and Jack Nicklaus, a world-class marina, botanical and sculptural gardens, and Club Puerto Los Cabos and the Fundadores Beach Club.
Punta Ballena
Punta Ballena is located just three miles outside Cabo San Lucas; Punta Ballena is one of the most private and exclusive residential communities in Los Cabos. Punta Ballena is a community of 53 single-family and multi-family luxury homes, a selection of three- and four-bedroom villas and condominiums, and the 56-room Esperanza hotel. With more than two miles of walking paths, private tennis courts, and an exclusive resident's only beach club, Punta Ballena is the ultimate luxury living.
El Encanto
El Encanto de la Laguna is an exclusive residential beachfront subdivision located east of San Jose del Cabo, Mexico. The neighborhood is on a sloping hillside offering fantastic overlooking ocean views of the Sea of Cortez. The private community features beachfront properties, single-family homes, and luxury condominiums.
Costa Palmas
Costa Palmas is located on the Baja's East Cape near La Ribera, is Costa Palmas. Costa Palmas is a luxury golf community anchored by the Four Seasons Resort at Costa Palmas. Costa Palmas is part of a private resort community on a two-mile stretch of swimmable beach, with a private yacht club, and 20 acres of orchards and farmland. It features a Robert Trent Jones II, links-inspired Golf Course meant for ease of walking and offers excellent ocean views.
Check out all the Luxury Communities