Club La Costa, San Jose del Cabo Homes for Sale
Located in the tourism zone of FONATUR in San Jose del Cabo, the gated and guarded community of Club La Costa Condominiums surrounds the 9-hole Vidanta Golf Course. Broken into three phases, the development offers both 1 and 2 bedroom floorplans along with Penthouse units. All residences offer thoughtful floorplans, large terraces, solid wood cabinetry, and arched doors, and modern appliances.
The development is a peaceful getaway with spectacular ocean views yet is only a few minutes' walks to the San Jose beach and Malecon. If shopping is more what you're feeling up to, stroll into the heart of San Jose and enjoy the many shops and restaurants. The airport is located only 10 minutes away by car making access fast and easy.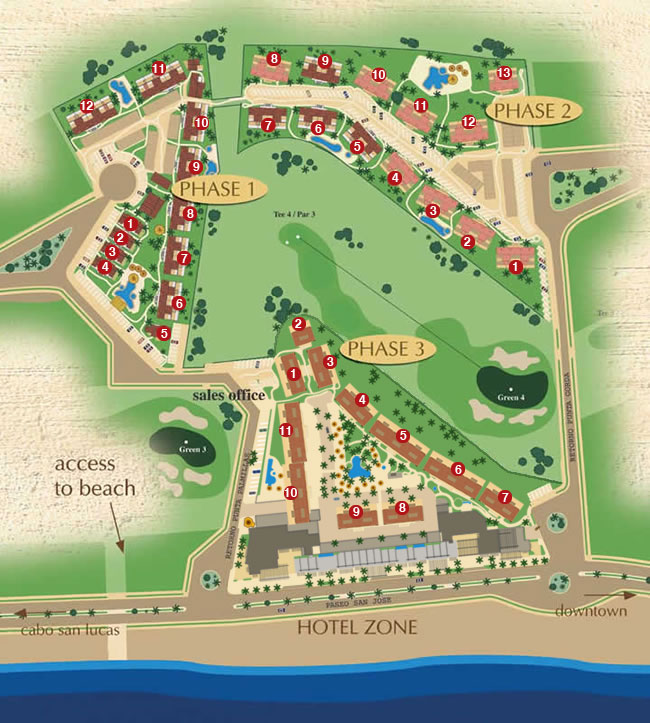 Amenities in
Club La Costa
Take in the professional desert landscaping while enjoying one 3 swimming pools in each phase as well as pool-side Jacuzzis. Surrounding La Costa Condominiums, the Course at Vidanta offers golfers 3,000 yards of gorgeous green, bordered by the Sea of Cortez and the rosy peaks of the Sierra de La Laguna Mountains. This 9-hole course offers both energetic play and a pristine viewing experience.
The Pro Shop offers the latest models of clubs and other golf equipment for purchase or rental. You can also find a range of golf apparel, Vidanta Golf logo attire, balls, and tees. At the end of your round, The La Laguna Social House is Los Cabo's luxury 19th hole. Sit down for a fantastic dining experience, or just relax and sip a refreshing drink at the fully-appointed bar. Open all day, La Laguna Social House is perfect place to enjoy breakfast before an early round, or to celebrate after a great one.
Outside the condominium are several stores, restaurants, parks, and shopping malls. The Plaza Patio San Jose is a large shopping center that's just a short walk from the building where you can watch a movie or shop for groceries at a nearby Walmart. If you live with your dog, you can visit Parque Finisterra, a pet-friendly park where you can take a fun walk with your pets or go on a morning jog
Schools near Club La Costa
The residential development is close to a good number of schools in the city. The University World Campus Los Cabos and Vicente V Ibarra Elementary School are a short distance away from the community. If you plan to move into the condominium with your children, you can consider these schools for them.
Club La Costa

Listings Map
Please note that map coordinates come from the MLS System and are input by other Agents. Occasionally they are incorrect resulting in the rare misrepresentation of the property's location on the map below.