The Different Mexican Style Homes You Can Buy in Cabo
Mexico is a land filled with architectural history. From the Mayan pyramids to the Franciscan Missions, Mexico has more UNESCO World Heritage Sites than any of the Americas.
Mexican style homes are a mixture of its dynamic past. They borrow heavily from each of the country's most notable eras. They are as much a celebration of beauty as they are of history.
To help you acquire an appreciation for the finer points, we put together a beginner's guide. Here's an introduction to the different types of houses you can expect to see in the Los Cabos area.
Spanish Villas
At the heart of Mexican architecture is its Spanish heritage. Spanish villas maintain the traditional features borrowed from homes in Spain. There's often an emphasis on grandeur.
Red tile roofs contrast white stucco walls. Richly stained doors and shutters highlight natural wood elements. Other natural elements include iron gates and stone walls.
You'll see recurrent use of curves and arches in Spanish villas. Arched exterior windows and porch eaves are mimicked inside in doorways and cased openings. Second floor balconies are also adorned with arches.
Tile plays a big role here and figures prominently both inside and out. A clay tile courtyard might fan out in a Herringbone pattern in earthen tones. Dark blue tiles make up the flooring for kitchens and bathrooms.
Elaborated gardens sprawl around the house, beset with marble fountains and ponds. Roses climb up trellises, complemented by other flowering plants. There's plenty of room for lounging outside and enjoying the foliage.
As the most popular Mexican style home in Mexico and much of the southwestern United States, villas range from the modest to the extravagant. From two-storey family homes to incredible opulent estates.
Casitas
At the other end of the spectrum of Mexican style houses are the humble casitas. Casita is the Spanish word for "little house."
Though the simple, rectangular home has a humble charm of its own, the emphasis is more on the land surrounding it than the home itself. You might enjoy a casita with an ocean view, similar to a beachside bungalow. You can find casitas situated in lush valleys with greenery all around.
Casita can also refer to a mother-in-law suite. The detached house is separate from the main property and self-contained. It has a living space and a bathroom, and is the perfect retreat or guest room.
Many people use their casitas for offices or music rooms. They also make great art studios.
One benefit to having extra, detached space is the ability to rent it out and generate income.
Adobe
The Adobe home is the modernized version of the ancient Aztec hut. The original Aztec hut had only one or two rooms and few windows to keep the home insulated from the desert heat. Adobe homes now can be sprawling, multi-level properties.
An Adobe abode is characterized by sun-dried brick with a smooth mud veneer. The flat roof with overhanging rough-hewn viga rafters gives it an instantly recognizable look.
The wooden vigas are visible from the interior as well and infuse the ceilings with rustic warmth. Red brick or terracotta make up the floors. A smooth, stucco fireplace with an arched opening is often the focal point of the living area.
Mission Revival
Mission Revival homes are ornate and unique, dating back to 18th Century Colonial Spain. A curved parapet above the roof line, coupled with a square bell tower, gives the home its distinct, vaguely church-like facade.
The details are what make a Mission style house. Intricately carved window trim, patterned brick inlay above arched openings, and quatrefoil accents are some.
As with villas, the walls are sided with white stucco, and the roof consists of variegated red tiles with eaves that overhang the walls. The outdoor living space might have a roofed arcade with repeating arches.
Though the exterior might be staid and echo piety, interiors are awash in vibrant color. Rusty reds, bright oranges, and electric teals feel like a celebration. Mosaic tiles add personality to walls and stair risers.
The physical asymmetry of the outside is solidified by the contrasting moods between the exterior and the interior.
Haciendas
Mexican style homes have their own "rambling ranch" in the Hacienda. The low homes, usually only one-storey high, have expansive floor plans that spread into veritable compounds.
Historically, haciendas belonged to Mexico's upper class or nobility. They were the cornerstone of the local community and made up much of Mexico's arable lands. As such, the grounds were extensive.
Space is still king in the Hacienda. Courtyards paved in cobblestones with stone pillared arcades seem unending. Living rooms are a palatial display of stone floors and beamed ceilings.
Kitchen and dining are separate but equally massive. Bedrooms, often with entry to the courtyard, are also made separate from living areas. Again, fireplaces are a focal point, this time faced with brick.
The living area spills out to the outdoors. An open-air, roofed porch makes the pool an extension of the living room. Space is a luxury, and Haciendas are dripping with it.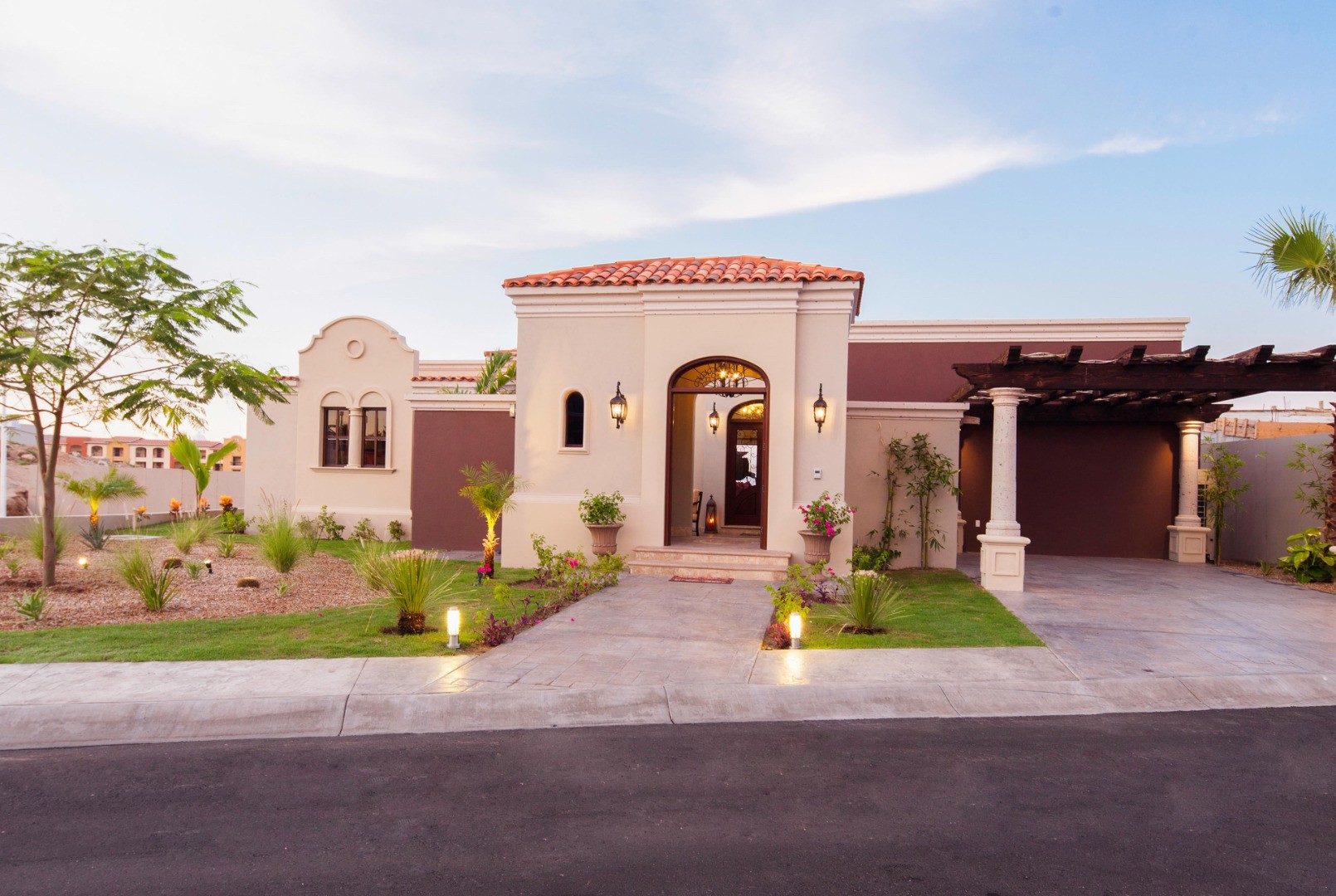 Modern Mexican Style Homes
Modern Mexican homes mix elements from the past and the future. Flat roofs, multi-tiered patios, and stucco meet sleek furnishings and clean lines.
The emphasis on outdoor living means windows are open to welcome the ocean breeze. Organic design and natural materials incorporate to help complement the surrounding desert, not compete with it.
Inside are tile floors that keep the temperature cooler. Luxurious furnishings go hand-in-hand with antique, arched double doors and wrought iron railing. Rustic chandeliers harmonize with sub-zero appliances.
Old meets new and the balance is striking.
Are You in the Market?
Is a home in the Los Cabos area in your future? Mexican style homes are among the most beautiful in the world. Ornate details, natural materials, and centuries of history make them a unique piece of paradise.
If you're buying or selling in Cabo, we can help! Contact us to take advantage of our first-hand knowledge of the area and our priority to provide personal service.