What to Do, Eat, and See in the Cabo Corridor
Turquoise oceans, rugged cliffs, cactus-studded hills, luxury resorts, world-class cuisine, and adrenaline filled activities…
These words aptly describe the Cabo Corridor in Mexico. Are you ready for the vacay of a lifetime? Well, you're not the only one. In 2017, 35 million tourists visited Mexico.
You might have heard of the destination, but what exactly is "The Corridor"? What are the best things to do in Los Cabos? What can you eat there? Read on to find out the answers.
What is "The Corridor"?
The Cabo Corridor, also known as The Tourist Corridor, is a 33 km long stretch of coastline which lies on the southernmost point of the Baja California Peninsula. The luxurious strip of sun-drenched beaches connects the cape cities of Cabo San Lucas and San Jose del Cabo.
However, these two connecting cities are as different as chalk and cheese. San Lucas is well known for its vibrant nightlife and beach bum lifestyle. Whereas the tranquil and traditional city of San Jose offers a wide variety of cultural attractions and natural sites of beauty.
Yet, the busy metropolitan vibes from both cities cannot be found on the relaxing Tourist Corridor. You will mostly find it peaceful, secluded and exclusively luxurious. However, if you jump on the highway, you're only minutes away from the bustling cities to either side.
If you're somewhere in the middle of The Corridor, you'll definitely get the best of both worlds!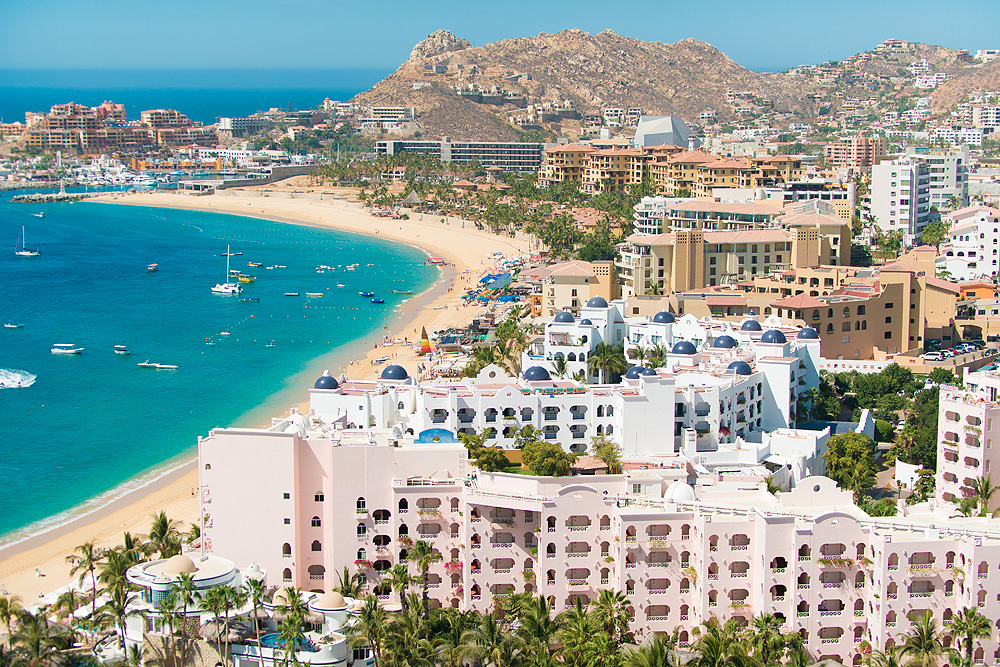 Things to do in Los Cabos
What activities in Cabo San Lucas and San Jose are worth a try? Read on to find out about the things to do in Los Cabos.
Dazzling Activities
The Corridor is far from boring with a huge amount of dazzling attractions for every age and interest. Sunset cruises, desert tours, or horseback riding on a secluded beach are interesting activities to do on a romantic or relaxing vacation. But if you're an adrenaline junkie you can go windsurfing, kayaking, kite skiing, mountain biking, zip-lining, bungee jumping, or even take a cruise in a dune buggy.
The area is also well known for its whale and dolphin watching season. This takes place from December to April. You can spot ginormous blue whales on a boat tour and can even take a swim with dolphins!
But these are only a few of the things to do in Los Cabos. Keep reading for more Cabo San Lucas attractions.
Pristine Beaches
The Corridor has many captivating beaches. Whether you want seclusion or lively bustling activity, you have your pick of bays.
The emerald-hued waters of many bays are great for snorkeling excursions. There are amazing underwater worlds to be discovered at Pelican Rock, Big Point, and the shipwreck found in Barco Varado. Most beaches in Los Cabos are also ideal for surfing the perfect waves.
A Golfers Paradise
The paradise-like combination of white desert sands, manicured greens, and the turquoise ocean makes the perfect environment for a spot of relaxing golfing. Known as the golfers' "Garden of Eden", The Corridor has close to a dozen first-class courses to choose from.
Gone Fishing
The Pacific Ocean and the Sea of Cortez combine right by The Tourist Corridor. This means a spectacular array of sea life is found all year round. In fact, the area is actually known as "The Marlin Capital of the World".
Fishing is one of the top things to do in Los Cabos, with even well-seasoned fishermen quivering with anticipation at the thought of it. Every year there are international fishing contests and tournaments. But for a relaxed fishing session, you can head out on the waters with local captains who can take you to the best spots.
Party On
The Corridor itself isn't really known for its wild party nightlife. Most resorts have onsite bars and lounges which are great for a relaxed evening with friends. But if you want to dance the night away you need to head to Cabo San Lucas.
The Corridor to Fine Dining
Several resorts offer all-inclusive fine dining options. However, if you want to experience something outside your resort there is a fine selection of restaurants along The Corridor. Some can be found in other deluxe resorts, shopping plazas, relaxed hideaways, or even on the beach.
From Japanese sushi and spicy Mexican food, to just a beef burger and fries, international chefs from around the world are ready to prepare any cuisine you desire. However, being on the beach-side, seafood is the freshest and best delicacy around.
The restaurants don't only have lip-smacking food, but they also offer spectacular views over the ocean.
Where to Stay in The Cabo Corridor
Accommodations along this stunning coastline are exquisite. It's easy to see why over 100,000 residents stay permanently. Many tourists also visit to enjoy just a few of the 330+ days of sunshine each year.
With premier resorts, extravagant villas, and stunning hotels in abundance, you certainly can get a taste of luxury. First class service, sophisticated beach clubs, unwinding spas, gourmet restaurants, and oasis-like swimming pools are featured in most accommodations on the stretch.
Tourists and travelers might prefer to stay near the western section of The Corridor which is closer to the city of Cabo San Lucas. This area is more touristy with several premier resorts and top-notch restaurants.
The middle of The Corridor is more remote which is great for travelers who are looking for complete peace and serenity. Check out a Los Cabos hotel map to find the right spot for you.
There are also exclusive residential areas for permanent living or for a regular holiday home. Although luxurious in every way, these condos are functional for everyday living. All the practical facilities you need are nearby, such as schools for your children, hospitals, and even a Walmart!
An Extended Vacay…
As you can see, there are so many things to do, see, and eat in The Cabo Corridor. Whether you're young, old, looking for excitement or just for some relaxation, you'll find it all in The Corridor.
If you're interested in finding a property in The Cabo Corridor, you've come to the right place. From elite condos to exclusive communities, we have everything you need for your vacation home or permanent residence. Check out our range of stunning properties today.